Passed my behind-the-wheel driving test today in Fremont, CA DMV (Department of Motor Vehicles) [4287 Central Avenue, Fremont, CA 94536]
Sharing a thing or two about the experience and what could be useful to others.
Written Test and Permit (pre-requisite to the actual driving test)
Before you can take the behind-the-wheel driving test you have to pass the written test and be given a temporary permit (good for 90 days of writing).
Rather than discuss here, I would suggest you go to DMV website and read about Drivers License application
After reading the requirements and ready to take the written test, make an appointment (I haven't tried walking-in but from the looks of the line I would highly recommend making an appointment).
Preparing for Behind-The-Wheel test (aka actual driving test)
Have a car to use for your test.

DMV will not provide you a vehicle so if you don't own a car, you can borrow from a relative or rent a car.
But the vehicle must have:

valid car registration (as the driving test date)
car insurance (or named non-owners insurance – particular on liability)

I rented a car from Enterprise to use for my test. If you do this too, make sure you tell the rental company that you will use this for DMV behind-the-wheel test so they can give you a letter stating you are allowed to use the car for the test. Also my examiner looked for the rental receipt/document and when he saw that I did not accept supplemental liability protection I had to show him my StateFarm named non-owners insurance. I got one since although I don't own a car I sometimes drive friend's, relative or the company car and want I have my own liability insurance (by the way, renters insurance usually does not include damages caused by motor vehicles)
Depending on the availability of the car you will use, you can now then schedule an appointment

Schedule an appointment (through their website)

Behind-the-wheel is by appointment only
I could not do it online then (getting an error) for some reason but when I called DMV (1-800-777-0133)
If you've driven before (e.g. foreign license) then I would suggest you make appointment right away. The closest DMV office to your area might not have an available behind-the-wheel appointment. Since I live in Mountain View, the closest one were Santa Clara, San Jose, Los Gatos, Fremont.

I took my written test in Los Gatos (everyone was nice, not too crowded and went smooth up until the correction of the paper – where I had to wait for almost an hour to get the paper corrected)
Why Fremont for behind-the-wheel:

Co-workers suggested that it's relatively easy here compared to others (whatever that means)
The earliest that had available schedule
Not Los Gatos since there are more uphills and sometimes the roads are narrow then becomes wide etc

Know the area (possible routes)

Test examiner will give you instructions along the way but it helps to be familiar with the area (especially if you don't live in the area)
I got my most helpful information from this blog post – Akbar's Home on the Web
Know that no one can predict the routes (but getting familiar with the common ones will help). Since my appointment was a Monday, I went to familiarize with the area the day before that. There were others there too, practicing and scouting the area. I will the route I ended up below.

Day of the appointment

Get you documents ready (your permit, car registration, insurance) and a pen could be handy
Come on time (at least 20 mins before) – parking in that DMV could be hard to find

make sure you feel well, ate well, well hydrated (or anything that could cause discomfort)
also helps if someone can go with you (if you haven't had a foreign/another state license then this is a must) since you can't drive to DMV with just your permit (and without being accompanied by another license holder)

Go and line up at the behind-the-wheel appointment line (as of today was at Window 11). There will be a marker above the window that should give you a hint.
Once you get approved for the actual driving test, you will be asked to get your car to the back (line up on the left side) then wait for your turn

Before you go to the back (and as a best practice, make sure your seat adjustment is comfortable, mirrors are set properly. When I took my foreign drivers license this was actually part of the driving test but in here in CA it doesn't seem like it (nevertheless do it for your own safety before it's too late/too risky to make adjustments)
I waited for may 30+ mins for this one (this is when a company could be helpful – the wait could get boring – but during the actual driving it should only be you and the examiner)

Once it's your turn then test time. Greet your examiner with a smile (not scored in the test but that should be nice). Then there are two parts:

Pre-Drive Checklist

basics functions in your car (know where and how to control)

windows
mirrors
turn signals
brake lights
flashers
headlights
wiper
horn
parking brakes
defrosters

also know how to turn your car key without starting the engine (accessories only > on)
arm signals
seat belt (since you drove up to the test area, you should already be using it)
when the examiner comes in make sure he/she uses the seat belt, if not ask politely
examiner will also hand you a piece of yellow cardboard/paper (laminated as of my time) about what will take place (e.g. instructions will be given a long the way)

Actual Driving

Examiner will now ask you to start driving (in my case move to the right to exit the DMV to the right)
He/she will not trick you (that's written in the yellow paper mentioned in item#1) so be alert but take it easy, relax
This is the first test, leaving that area will require you chase to the next "lane" so make sure you check your mirrors and look over your shoulder (you should know this by now)
When exiting DMV make sure you signal of course and stop to check and make sure you exit safely.
If examiner asks you to turn right, then exit in a way that you end up in the rightmost lane (that is, do not cross two lanes and end up in the middle lane). If examiner asks you to exit left then turn right, then make sure you end up in the right lane closest to the middle first then slowly move to the right (looking over the shoulder again as best practice) then make your right. Then just follow along, constant/reasonable speed and below the limits indicated, you'll be alright.
At some point (in the residential area) he will ask you to park at the curb (side of the street). Just a regular parallel park (not in between two other vehicles – there wasn't a lot during my test). He/she will not trick you but make sure to:

look at your mirrors, then over your shoulder to make sure you can safely park
straighten you parking and try to be within 18 inches away from the curb (more or less – no need to be very accurate but at least not too far, not too close)
examiner then asked me to do a straight reverse (make sure you do not hit the curb). Follow best  practices when backing.
then examiner asked me to get back on the road, as usual, look over the shoulder and get back on the road safely

Proceed and follow along the instructions and you will be fine. At the end you will be back at the DMV to do a diagonal park, then you will know if you passed or failed.
When you pass the test you will be asked to go back to Window 11
Make sure you check your name and address properly

this turned out bad for me – I have two first that ended up with no spaces so ended up with just one firstname lumped together – make sure the staff will get it right before you give a go signal to finalize it
My route
remember there are too many possibilities for routes (depending on examiner, his/her mood, traffic conditions etc). so familiarize but you should only take the test when you're comfortable driving even if you're directed to an area you're not too familiar (or at least you can pay attention and react accordingly to traffic rules/signs)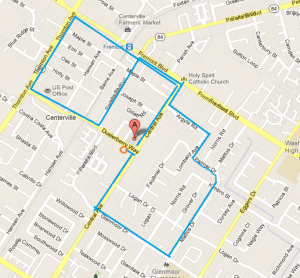 come out of DMV on Dusterberry Way turning left (get to the center lane first, then move towards the rightmost lane)
turn right towards Central Ave
turn left on Glenmoor Dr (there were speed bumps here – examiner told me one could go over the bumps at most 20 mph)
turn left on Mattos Dr
slight left on Palmer Dr
turn right on Argyle Rd
turn right on Central Ave
turn left on Fremont Blvd
turn left on Peralta Blvd
turn right on Dusterberry Way
turn right on Thornton Ave (no right on red on certain times – watch out and read the timings if red light is on – unfortunately I couldn't read it earlier – seems to be 7AM-9AM then 1PM-3PM not sure but wasn't red when I got to it)
turn right on Fremont Blvd
turn right on Central Ave
turn right on DMV (before Dusterberry Way) then park
Checklist/Tips/Reminders – there are too many in the handbook but having a few here relevant to the area
turns, merging

always

signal
look over mirrors
look over your shoulder

when turning, if you start at the inner lane, end at the inner and if you start at the outer lane, end at the outer lane (i.e. do not cross lanes while turning)

yield

green circle is not a protected turn (let oncoming traffic pass)
there were places where left turn should only be if the left green arrow is lit
always yield to pedestrians
yield signs

stop

stop at red light
full stop at intersections with stop sign – FULL stop – not partial stop
stop before the limit line
Good luck!
Safe driving practices and following rules are not only for test purposes, follow them even after you get your license. It would make the road a safer place to be and as they say "the life you save could be yours".
Though car-free life style is still in my opinion better in most cases (healthier, cheaper) I would still say – happy driving!
[RG]